We welcome you to our magical sculpture trail and pottery shop.
The Sculpture Trail is open daily from 9am -dusk starting Easter weekend. There is ample parking on the driveway. The Sculpture Trail entrance is just across from the driveway on Marion's Way. We look forward to your visit!
Tales of the Winter Solstice.
On December 21st, 2022, Bill O'Callaghan regaled listeners with Tales of the Winter Solstice – a free guided tour of the Island Folk Pottery Sculpture Trail. If you've ever wondered what the magical creations on the trail do on the longest night of the year, this is when you'll find out! Preview the tour below. Starting June 1st, 2023, Bill will be offering free guided story walks every Thursday at 10:00 am. (Ages 5 and up.)
Our shop is open 10-4 Monday – Saturday and 2-4 on Sunday. We will be open 10-2 on Thanksgiving Day.
Directions
GPS DOES NOT ALWAYS WORK. Many people find themselves miles away down long and beautiful dirt roads. Please reference the directions and visuals below to be safe.
We are located at 16 Marion's Way in Chilmark. Marion's Way is off of Middle Line Road which is off of Tabor House Road (where the Chilmark Landfill is).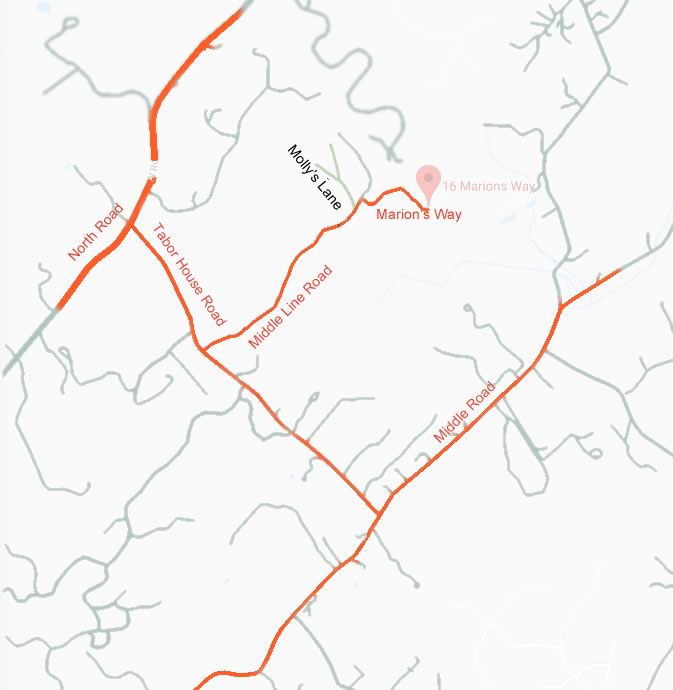 If you come from VH up State Road, you would go right on North Road, pass Tea Lane on the left, pass the firehouse on the right, pass the North Tabor Farm Road and the farm stand on your left, and then turn left onto TABOR HOUSE ROAD. Middle Line Road is the first left off of Tabor House Road. It is alongside the dump. It is a dirt road, though the entrance is paved. The name of the road is on a large rock. There is a Landbank sign as well for Middle Ridge Trail. If you get to the landfill, you've gone a bit too far.
Marion's Way is the FIRST RIGHT off of Middle Line Road. Go down Middle Line Road for at least a mile. You'll pass Molly's Lane on the left. It looks like the road forks, Molly's lane is so large, and the sign for Molly's Lane is on a boulder to the right of Molly's lane, in between the two roads. Continue right on Middle Line Road (passing the boulder on your left), and the next right is Marion's Way. Our home is the first left off of Marion's Way.
If you are coming from Middle Road, turn onto Tabor House, and Middle Line Road is the right immediately after the Chilmark landfill on the right.
VISUALS